SignalScope X now runs on Mac
With the release of version 11.0 of SignalScope X, a single subscription works across iOS, iPadOS, and macOS. SignalScope for iOS, which was available for sale on the opening day of the iPhone App Store in 2008, benefited from the development of the original SignalScope app for Mac. Since then, Faber's iOS apps have added sophisticated new features to the standard real-time analysis tools that make SignalScope a powerful platform for audio and acoustics-related measurement, metering, and analysis. Now, both platforms benefit from the same development efforts and the need to purchase separate apps for Mac and iOS has been eliminated.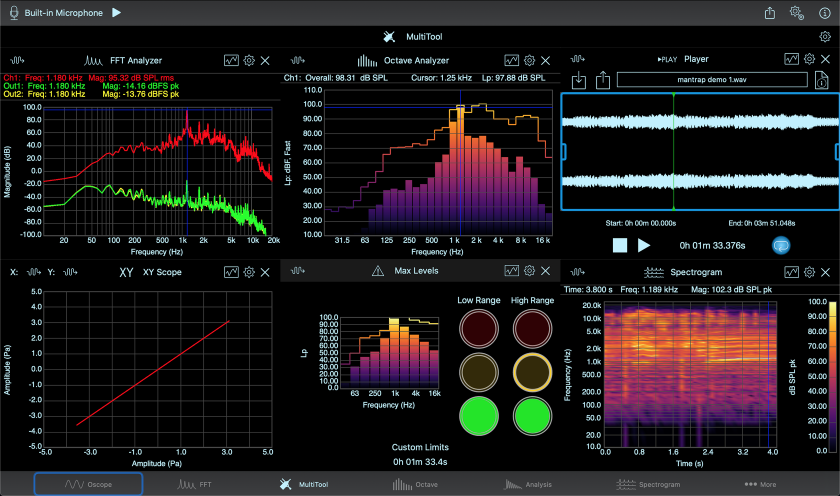 What else is new in SignalScope X?
The Octave, FFT Analyzer, and Dual FFT Analyzer tools now support the creation of average spectrum curves by loading data from saved files (Pro Tool Set subscription required).
Keyboard shortcuts support the various menu options and commands on the Mac, and make it easier to operate SignalScope X on iPhones or iPads running iOS 13+.
Additional vertical scale options have been added (24 and 30 dB/division).
Touch Bar support on the Mac.
Local file names can be edited within the file detail view.
Minor bug fixes and cosmetic enhancements.
SignalScope X, version 11, requires macOS version 10.15 or later, or iOS/iPadOS 12 or later.
Faber's existing Mac apps, including SignalScope/Pro, SignalSuite, and Electroacoustics Toolbox, will continue to be maintained for a limited time, after which they will be removed from sale on the Mac App Store. New purchases of these legacy Mac apps is no longer recommended, unless they are needed to run on macOS 10.12-10.14.