SignalScope X, built for iOS 14, Big Sur, and Apple silicon
SignalScope X has arrived for download on the Mac and iOS App Stores. Version 11.1 has been built as a universal app that will run natively in macOS Big Sur on both Intel and Apple M1 processors. A single subscription unlocks your preferred SignalScope X tool set on macOS, iOS, and iPadOS.
A major improvement in SignalScope X on macOS (Catalina and Big Sur) comes with drastically improved support for audio input and output device selection. The audio device selection in SignalScope X no longer depends on, nor interferes with, the system-level audio device selection on your Mac (the audio device selections made in System Preferences or in Audio MIDI Setup). This means you can select an output device in SignalScope X while audio playback continues, uninterrupted, in other audio apps that rely on the system output device. It also means that there will no longer be unexpected confusion in the input and output channels available within SignalScope X, which was previously a challenge in some circumstances.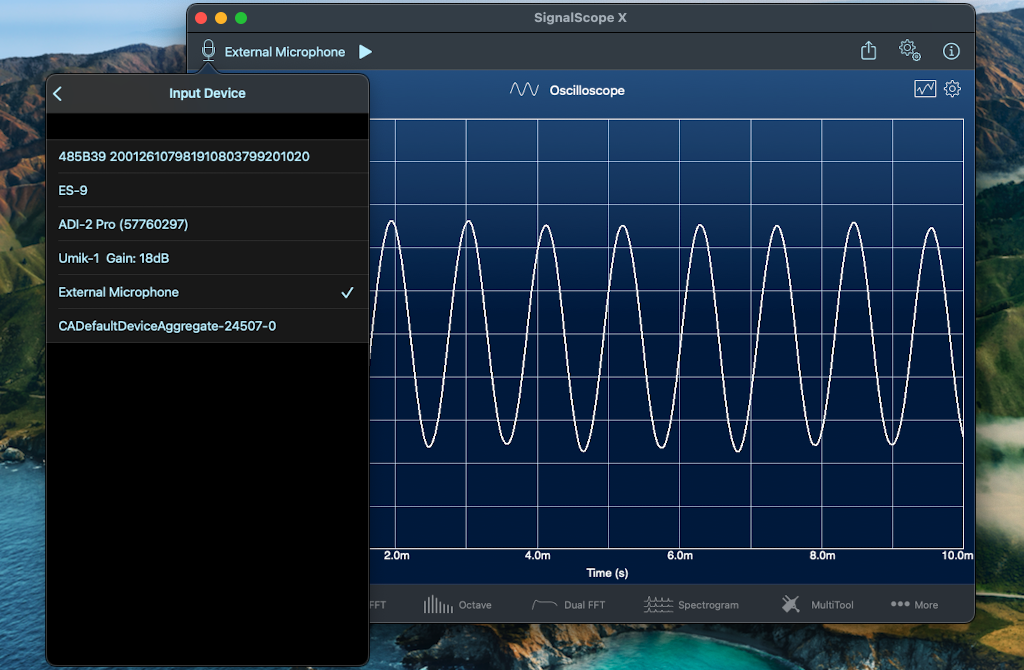 Other improvements in SignalScope X include:
Mac: Audio sample rates may be specified independently for input and output devices (unless the same device is selected for both input and output).
Mac: A graphics bug has been fixed, which sometimes caused graphing problems on iMac models with NVIDIA graphics cards.
iPad/iPhone: Nominal microphone sensitivities updated to include new iPad Air, iPhone 12, and iPhone 12 Pro.
Minor bug fixes and cosmetic improvements.
Perpetual license versions of SignalScope are also available, for those who would prefer to pay once for perpetual access to SignalScope's tools on supported versions of macOS and iOS. Visit our Store page for download links.