SignalScope X 11.3 displays dBu and non-dB signal levels
As requested by our Pro Audio customers, SignalScope X Meter, Octave, FFT, and Spectrogram tools can now optionally display voltage levels in dBu. A simple selection in the app's main options menu determines the decibel reference, so the user can display (and save) levels in dBV or dBu.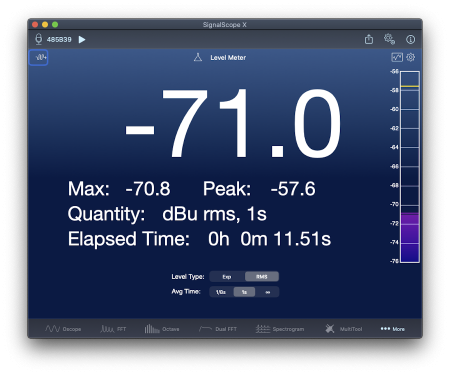 Another significant change in version 11.3 is the ability to display non-dB values in the Meter and Octave tools. This means that sound and vibration levels can be viewed in pascals or g's, rather than dB SPL or dBg. Voltage signal levels can be viewed in V rms, rather than dBV rms or dBu.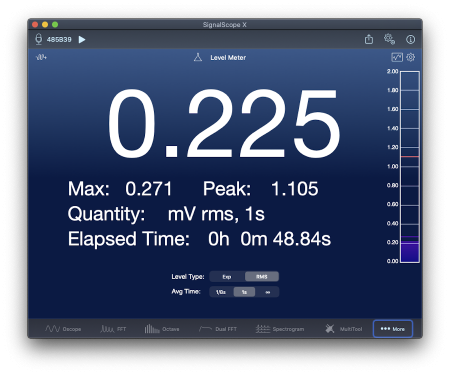 Like the recently updated SoundMeter X, SignalScope X also includes direct support for the miniDSP UMIK-2 for easy factory-calibrated measurements.
Here's the full list of what's new in SignalScope X 11.3. All these updates are available in SignalScope Pro 2020 and applicable updates can be found in the 2020 versions of SignalScope Advanced and SignalScope Basic.
New Pro Feature: Pro Audio users can now choose to display voltage levels in dBu rather than dBV. This currently applies to the Meter, Octave, FFT Analyzer, and Spectrogram tools.
The Meter and Octave tools can now display non-decibel signal levels. This is convenient for directly monitoring non-acoustic levels (e.g. V rms, as opposed to dBV rms or dBu).
Exported data from the Meter, Octave, FFT Analyzer, and Spectrogram tools follows the level type selected for display in the app (e.g. in V, dBV, or dBu in the case of voltage signals).
Live web monitoring of the Meter and Octave tools has been updated to support non-dB and dBu levels, too.
Direct support for miniDSP UMIK-2: Enter the serial number of your UMIK-2 to have the factory-supplied sensitivity automatically downloaded and applied for accurate measurements. Changing the input gain automatically updates the sensitivity to preserve the calibration.
Flat frequency weighting is now labeled as Z weighting.
The Meter tool's single-bar graph now supports full auto and manual vertical scale adjustment, similar to the Octave tool's graph.
When data-logging is enabled in the Octave tool and multiple channels are selected for analysis, you can now choose in the Display Options menu which input channel to see the log data for.
Additional vertical scale selections have been added to support instantaneous sound levels of up to 194 dB (~100 kPa) in the Oscope.
Virtual output channels are now correctly handled on Mac.
For input channels that support gain adjustment on the Mac, input channel gain is included in exported data.
Additional minor bug fixes and cosmetic improvements.