Auto-start the Data Recorder or the Octave Analyzer in SignalScope 11.5
With version 11.5 of SignalScope X, SignalScope Pro 2020, and SignalScope Advanced 2020, the Data Recorder and Octave Analyzer tools can be started automatically when a user-defined trigger event occurs. The trigger event consists of a single amplitude threshold on a designated trigger channel. The trigger channel can be chosen from all available input and output channels for the selected audio input and output devices. It can be chosen independent of the channels selected for recording or analysis in the Recorder or Octave tools, respectively. When the threshold is exceeded on the trigger channel, recording or analysis will begin (assuming, of course, that the tool has already started running with the auto-start trigger configured and enabled).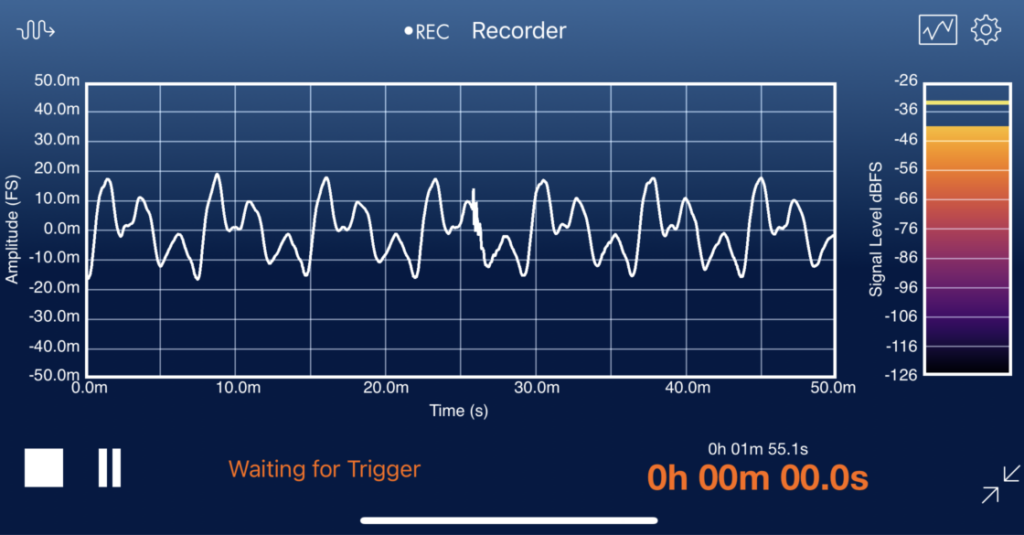 Auto-start triggering is useful for analyzing impulsive transient events or for using external events (such as a hand clap, gunshot, balloon pop, etc) to begin a recording.
The Auto-stop function already found in the Level Meter, Octave Analyzer, Max Levels, and Data Recorder tools now supports 1/10 and 1/8-second increments for the desired duration.
Some bugs have been eliminated from the new app versions, including one that disabled the output channel polarity inversion in the Signal Generator tool and one that could cause the app to crash when selecting a difference channel (e.g. Ch2-Ch1), such as when trying to measure electrical current or impedance (Pro Tool Sets only).
Like the more feature-rich versions of SignalScope, SignalScope Basic 2020 also benefits from the following additional improvements:
On the Mac: Improved support for zoom/pan in line and surface graphs via two-finger pinch/drag gestures on the track pad. The mouse scroll wheel works for panning zoomed graphs.
Additional bug fixes and cosmetic/user experience improvements.
Version 11.5 is available now on the App Store.
Perpetual license versions (Basic, Advanced, Pro) of SignalScope can be downloaded from the App Store through our Store page.