Easy calibrated vibration measurements on Mac or iOS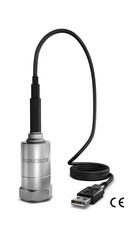 Although Faber Mac and iOS apps have offered excellent sound and vibration analysis tools from the start, the introduction of the Digiducer 333D01 USB Digital Accelerometer makes vibration measurement easier and more portable. When the 333D01 is connected to a Mac, iPhone, or iPad, it will be immediately recognized by our apps and ready for calibrated measurements.
For example, SignalScope Pro will recognize the connected 333D01 as an accelerometer and set the measurement units accordingly. SignalScope Pro will also automatically read calibration information from the 333D01 and establish the appropriate sensitivity so calibrated measurements can be made immediately. This works with both the Mac and iOS versions of SignalScope Pro.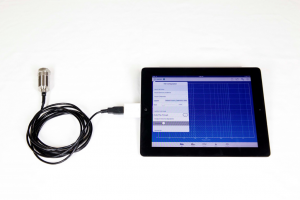 The 333D01 communicates with Mac OS or iOS via the standard USB Audio Class driver. Connecting to a Mac is as simple as plugging the 333D01's cable into an available USB port. For iOS, Apple's Lightning to USB Camera Adapter is required.* When connecting to iOS, no additional power source is required, which makes Faber apps and the 333D01 part of an ultraportable vibration measurement system.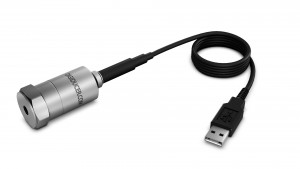 Auto-calibrated measurements with the 333D01 are supported in Electroacoustics Toolbox, SignalScope and SignalScope Pro for Mac, and in IOScope, SignalScope and SignalScope Pro for iOS.
Buy the 333D01 USB Digital Accelerometer
Download Electroacoustics Toolbox (Mac)
Download SignalScope Pro (Mac)
Download IOScope (iOS)
Download SignalScope Pro (iOS)
*Older iOS devices may require a 30-pin to USB adapter, such as the one available in Apple's original iPad Camera Connection Kit.