SignalScope X 12.0 Now Available with New Tools and Features
SignalScope X receives a major upgrade with version 12.0, including new tools and features.
New Pro Tools and Features
New tool: Sound Intensity. Measure up to 3 axes of acoustic intensity, acoustic particle velocity, and acoustic pressure with 2-microphone sound intensity probes in whole or 1/3-octave bands, or in narrowband FFT-based spectra. The Sound Intensity tool was designed according to the requirements specified in ANSI standard S1.9-1996, Instruments for the Measurement of Sound Intensity. It offers phase compensation for each 2-mic (p-p) probe axis and means of measuring the pressure-residual-intensity index. It can also indicate the sign (positive or negative direction, relative to the orientation of the probe) of the intensity and velocity data in individual frequency bands as well as for overall levels.
New tool: Polar Plot. This tool makes it easy to make a beautiful graph of polar data, which can be saved to a high resolution PDF file. The Polar Plot offers auto and manual scaling, dB scale, and selectable orientation, direction, grid lines, and angles. It even offers a data cursor for examining specific values within the plot.
New Pro feature: When saving an audio or data file, up to 10 custom metadata entries, each consisting of a name and value, can be specified to be included in the file. Each custom metadata entry is remembered by the app until it is manually removed. Custom metadata entries can be enabled or disabled for inclusion in saved data files.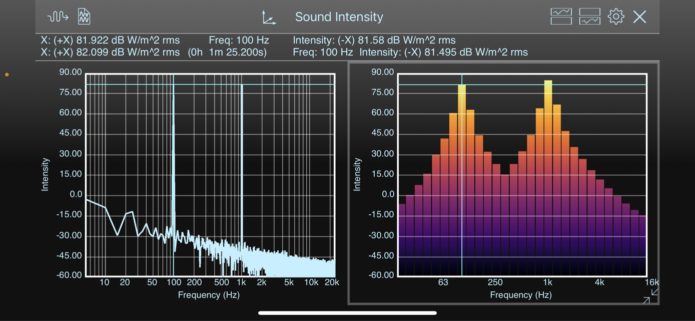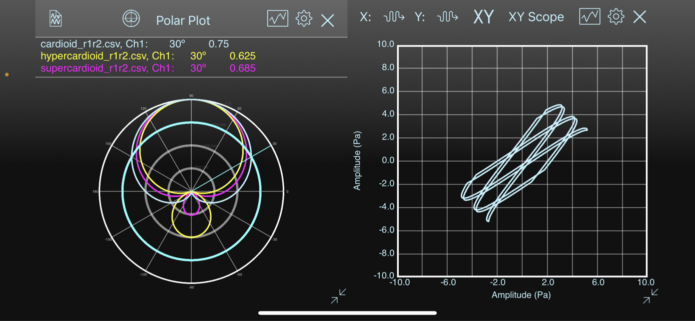 New Advanced Tools and Features
New advanced tool: The File Player tool has been moved from the Pro to the Advanced Tool Set.
The Octave Analyzer tool now supports octave bands with center frequencies from 1 Hz to 64 kHz (depending on the sample rate) and 1/3 octave bands from 0.8 Hz to 80 kHz (depending on the sample rate). You can select the range of frequency bands to display in the Octave Analyzer tool's main graph.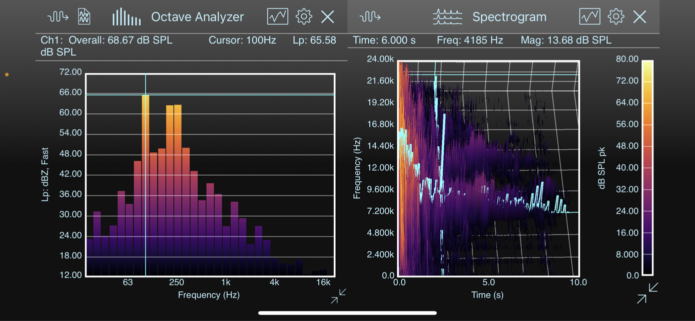 New Basic Tools and Features
New basic tool: The Signal Generator tool has been moved from the Advanced to the Basic Tool Set.
Input triggering in the Oscope and FFT tools now supports triggering all inputs from the same channel (selectable from any available input and output channels), or each channel self-triggering, as before.
The Oscope now offers additional, smaller time scales. Input triggering behavior has been improved at smaller time scales.
The Signal Generator tool now supports multiple output channel selection for the left and right signals.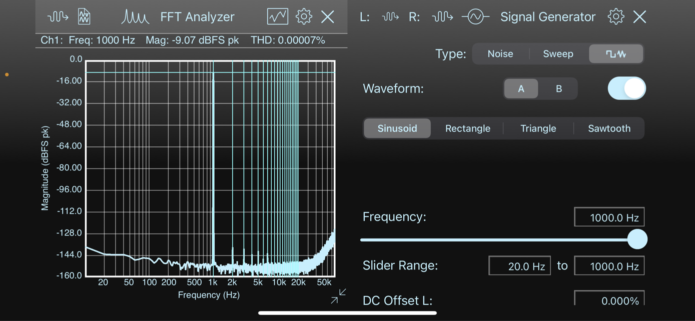 New Features on the Mac
A sidebar replaces the bottom tab bar on Mac with a list of tools that can be easily seen and selected with a single click. Tools in the sidebar are grouped into Basic, Advanced, and Pro collections, each of which can be collapsed or expanded to focus on only the desired tools. The sidebar can be hidden to allow extra room for the selected tool. As with the tab bar on iOS, an indication is given in the sidebar for any tools that are currently running.
When saving data, an Internal/External selection allows you too choose between saving the file in SignalScope's sandboxed documents directory (Internal–this is the prior default behavior) or exporting it to a location of your choosing (External).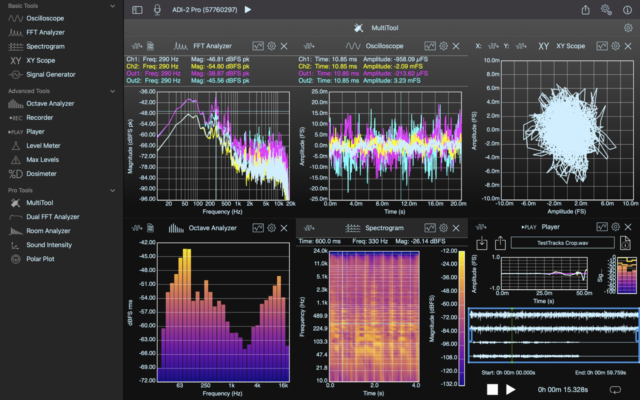 Other Improvements
Frequency response compensation (FRC) now supports phase correction when phase information is included in import frequency response data (FRD) files. Phase information is shown in a separate graph in the FR Compensation menu.
Frequency response data, for FRC, can now be loaded from FFT or Dual FFT data files generated by SignalScope.
New color scheme: Gray.
In select tools, data import has moved from the options menu to a new menu of its own, which is found next to the input channel selection menu(s).
Expanded list of vertical scale selections. Selection can now be made from a list of available scales in the Display Options menu.
Under the hood improvements: Performance and robustness of the underlying software code have been enhanced in many areas of the app.
Cosmetic improvements can be found throughout the app.