SoundMeter Pro 2 is all about better hardware support
Like the recently released SignalScope Pro 4, SoundMeter Pro 2.0 can now uniquely identify USB audio devices attached to an iOS device and remember your settings for each audio device each time it is connected. Additionally, version 2 includes direct support for the miniDSP UMIK-1 USB measurement microphone. Sensitivity calibration and frequency response data for the UMIK-1 can be downloaded automatically, just by entering the UMIK-1's serial number. Making calibrated sound level measurements is as easy as plugging in the UMIK-1 and typing in its serial number (the serial number only needs to be entered once, after which SoundMeter Pro will remember the microphone sensitivity).
SoundMeter Pro 2 supports manually switching between available audio inputs and outputs (i.e. if a headset microphone is connected, as well as a USB microphone, SoundMeter Pro allows you to manually switch between the built-in microphone, the headset microphone, and the USB microphone in the software without connecting or disconnecting any hardware). SoundMeter Pro 2 also supports manually switching between available microphones on devices, such as iPhones and some iPads, that have more than one built-in microphone.
Also new in SoundMeter Pro 2.0:
– Nominal input sensitivities have been updated for built-in microphones and headset inputs on iOS 8.
– On iOS 8, low, mid, and high input gain settings are available on all supported devices, for built-in microphones and headset input. Each gain setting now has an associated nominal input sensitivity. User calibrations are saved independently for each gain setting.
– A text formatting issue in MAT-file export has been corrected.
– Minor bug fixes and cosmetic enhancements.
– Apple's Lightning to USB Camera Adapter or iPad Camera Connection Kit is required for connecting USB Audio devices to your iPhone, iPod touch, or iPad.
– SoundMeter Pro 2 requires iOS 7 or later.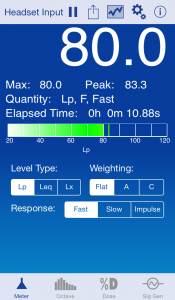 Similar features have been added to SoundMeter 6.0, although select in-app upgrades may be required (available via in-app purchase).