GuitarJack Rocks 3rd Gen iPhone and iPod touch
While the GuitarJack, from Sonoma Wire Works, was obviously designed with music recording in mind, it also works well as an I/O interface for test and measurement apps, like SignalScope Pro and IOScope. The GuitarJack, and the iAudioInterface from Studio Six Digital, are the only two iPod accessories I'm aware of that properly support both line level input and output via the 30-pin dock connector of iPhone and iPod touch devices. (The Alesis ProTrack supports line-level input and output, but not both simultaneously.)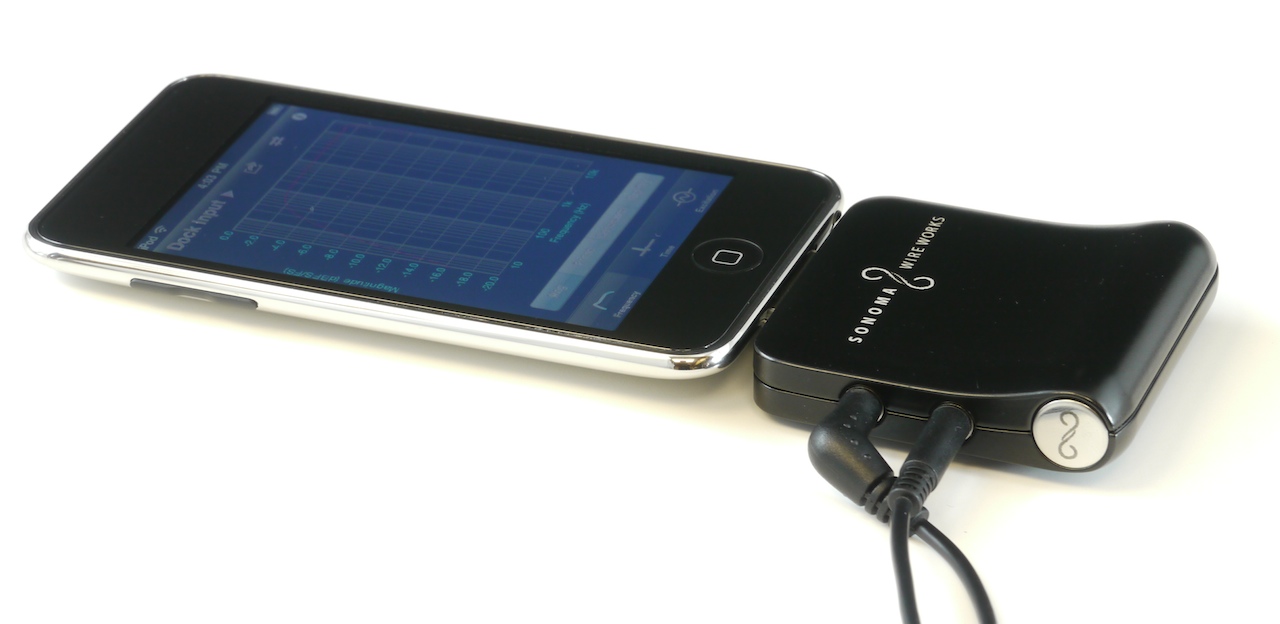 GuitarJack In Brief
Simultaneous stereo line-level input and output
Compatible with 2nd and 3rd generation iPhone and iPod touch devices (Sonoma recommends using Airplane mode when using GuitarJack with an iPhone. Also, I had success using GuitarJack with the 1st generation iPhone and the 1st generation iPod touch, although I noticed that the GuitarJack's low frequency rolloff was worse with those devices.)
High-impedance input available
Software-programmable input gain (Currently, gain settings are only accessible from within Sonoma's FourTrack iPhone app.)
Reasonably flat frequency response over the audio band
Built to last (Its case is metal instead of flimsy plastic, like so many other iPod accessories.)
GuitarJack Frequency Response
The following plots of GuitarJack's frequency response were produced with IOScope running on an iPod touch 3G. It's important to note that these measurements include the response of both the output and input circuitry.
The frequency response magnitude is down by 2.6 dB at 20 Hz, relative to 1 kHz, when working with the 1/8″ input or the 1/4″ input in Lo-Z mode. As can be seen in the plots, the Hi-Z mode produces more low-frequency rolloff than the Lo-Z mode (its response is down by about 3 dB at 40 Hz). The GuitarJack rolls off the low end more than I would like, but it's response is still pretty good for an iPod accessory.
GuitarJack is not compatible with iPhone 4, iPad, or iPod touch 4G. Fortunately, Sonoma appears to be working on a solution for the new iOS devices with model 2.
GuitarJack is available now for $199.